Jason Campbell
12 string acoustic guitar, lead & harmony vocals, piano
From St. John's, Newfoundland
Joined Signal Hill in 1998
Jason Campbell is the principal lead vocalist with a range spanning over three octaves. He is a songwriter and business manager for Signal Hill. Jason plays piano and 12-string acoustic guitar in the band. He is also a solid and animated drummer, as was his father professionally in St. John's during the 60's and 70's. Jim "Ollie" Campbell has played with founding members of April Wine, Sandy Morris of The Wonderful Grand Band and even Jim Lamb. Jason's musical interests and influences span many genres from Jazz to Hard Rock, Beatles to Beethoven, Led Zeppelin to John Coltrane and from singers such as Tony Bennett, Chet Baker, Michael Jackson, Sam Cooke, Billy Joel & Elton John. Often playing piano and guitar simultaneously while singing, he is a born showman.
Former Bands: Higher Ground, Friar's Point, Mean Streak (drums), Privateers, Andersen's Council.
In 2015 Jason released Missing Signals, an all original solo album. The touring band for this record featured Jay Meadus on bass with a 12 piece rock orchestra!
You can also watch Jason Campbell's Jazz Quartet live on Wednesday evenings from 7pm to 10pm at the Halifax Distilling Co.
Other Instruments: harmonica, drums, mandolin
Musical Education: Mohawk College, Hamilton, Ontario; jazz vocal/piano, big band arranging, composition; honours graduate, six scholarships & bursaries. Private teachers: Brian Roberts, Bob Hamper, Mark Eisenmen, Lisa Martinelli, Antonia Pigeot.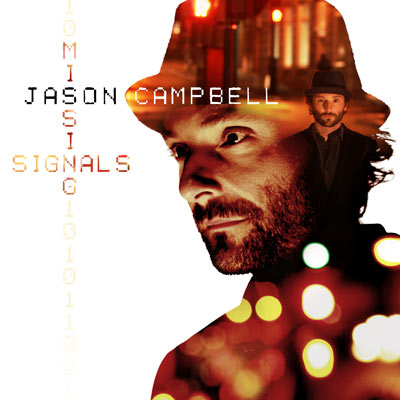 Released March 2, 2015
An all original solo debut by Signal Hill's front man,
Jason Campbell.
Featuring the #1 East Coast Hit, I Wish!
Also Top 10 Turn Up the Sunshine and Wonderful
(as voted on the East Coast Countdown).